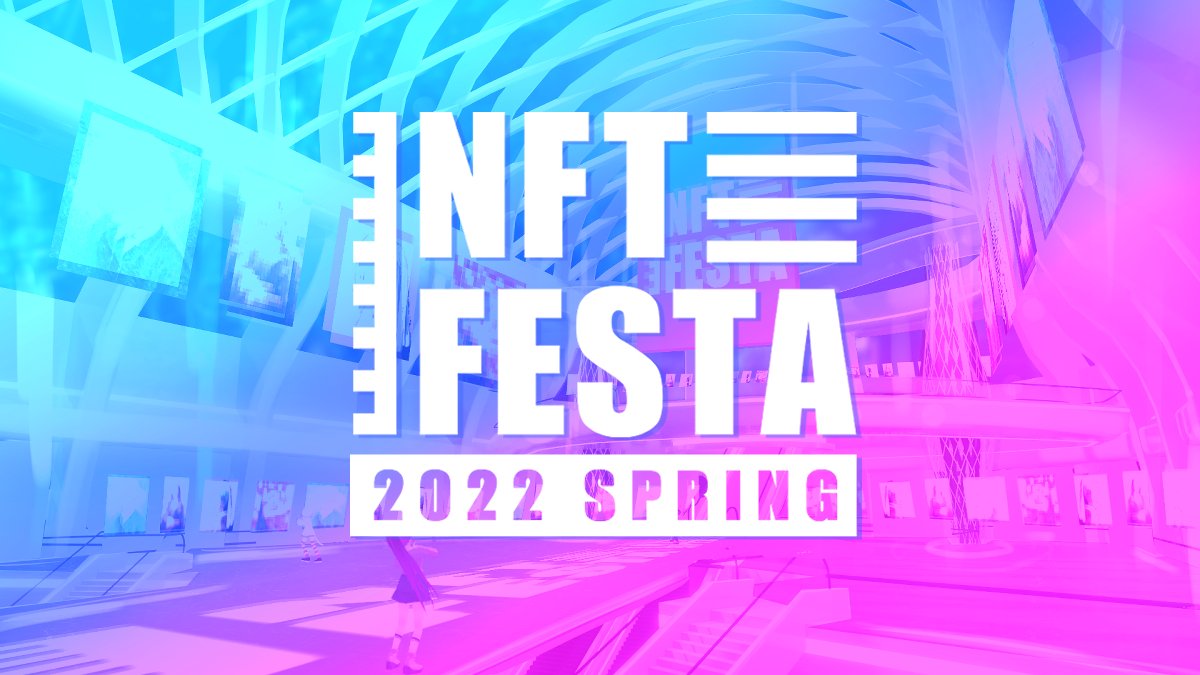 The 2nd NFT FESTA will be held from April 29 to May 5.
The first round of this event was held in January 2021 and closed with great success. The event is held in a metaverse where creators' works can be seen by many people.
Have you missed the first NFT FESTA?
Do you want to know about NFT FESTA again?
This article will introduce NFT FESTA for somebody like you.
Points of this article
What is NFT FESTA?
Review of the previous NFT FESTA
What has changed in the 2nd round
Click here to read the report on the 1st NFT FESTA (Japanese)
What is NFT FESTA?
NFT FESTA is a creator's exhibition event on the metaverse for
connecting people through the potential of NFT and
supporting your first step toward the new world.
In other words, NFT FESTA is an event venue for creators and participants to connect with each other in the metaverse space who shares their interest like "NFT looks/is so interesting!".
Wanna share your work through NFT FESTA?
Do you want to encounter wonderful NFT works that you haven't seen yet?
This event, originating from Japan, connects the metaverse and NFT by gathering people like the above.
How to join NFT FESTA
There are two main ways to enter NFT FESTA as a participant.
How to join
From a smartphone (Vket cloud venue)
From PC (Neos VR venue)
The previous event provided the above two venues. *There may be some changes for the second round.
Review of the previous NFT FESTA
The previous NFT FESTA showcased NFT works by approximately 300 creators mainly from Japan.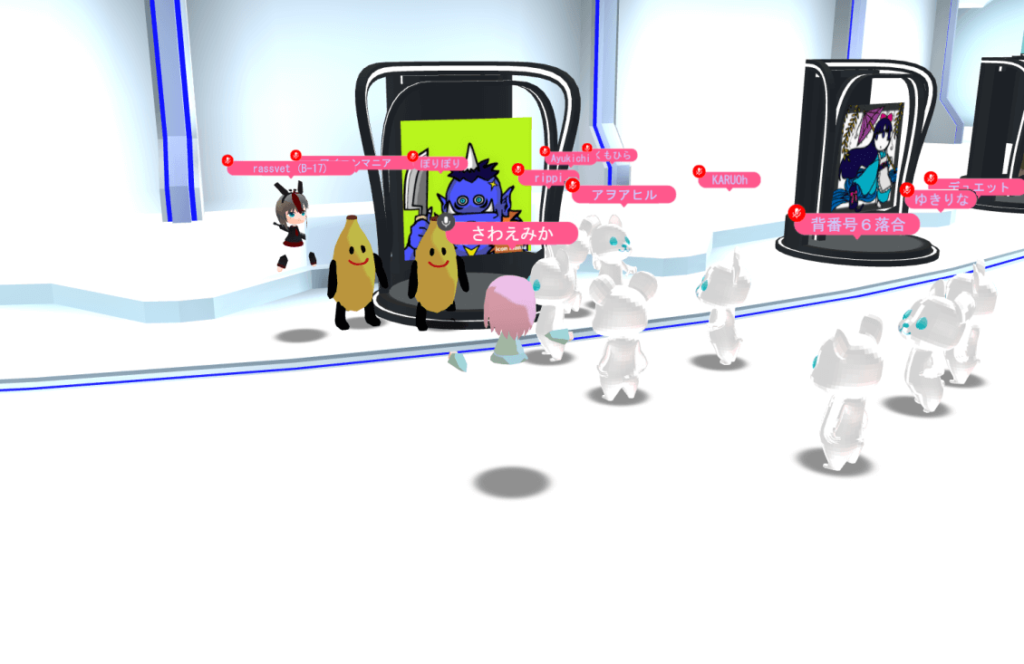 You can look around NFT works together with your friends and colleagues in the same space. It is just like enjoying the artworks on display at a museum.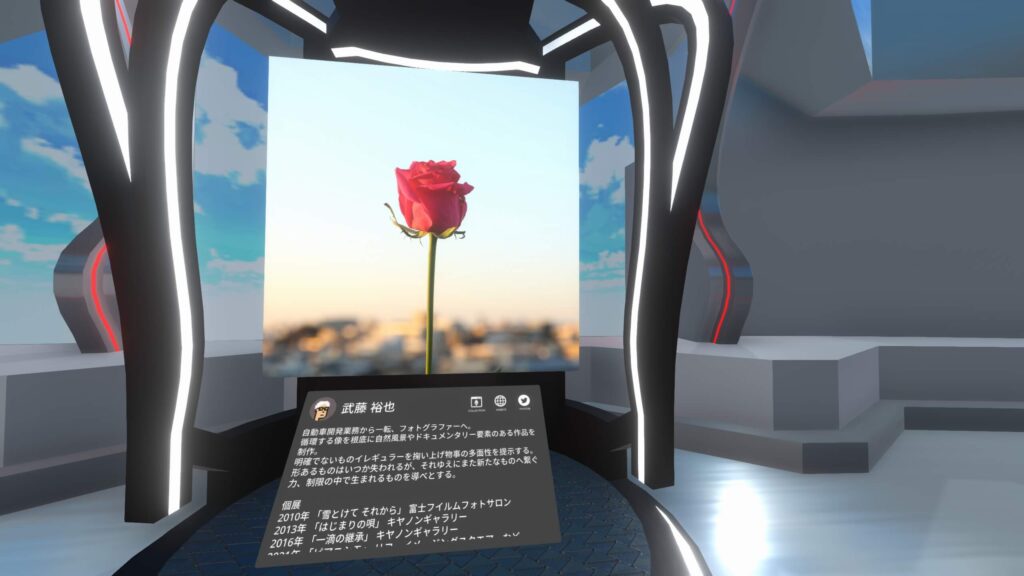 Clicking (tapping) on a work will display a summary of the work and other information.
Displayed items
Caption (description)
Twitter account
Marketplace
You can also purchase NFT works directly by following the Marketplace link.
It is like a large-scale art exhibition. It is rare to find an event where you can purchase artworks on the spot.
Vket Cloud venue is easy to enter
The Vket Cloud venue, the main venue for this event, is easily accessible to all.
Admittable devices
Smartphones
Tablet
PC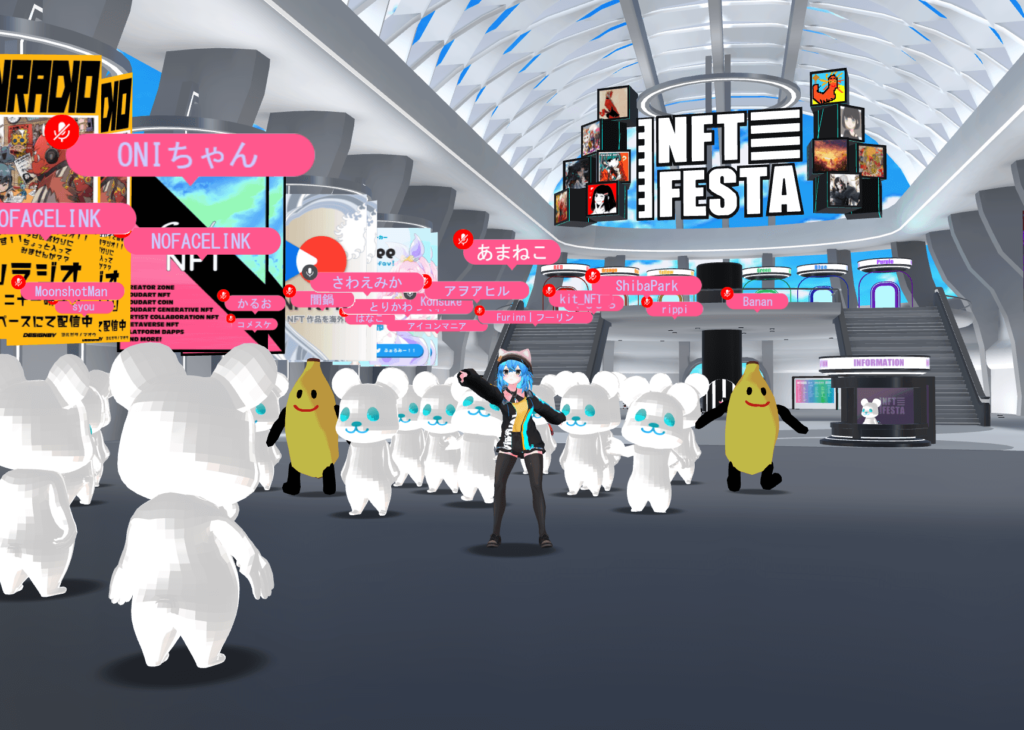 Thanks to the easy access we could find many visitors. It would be enjoyable to use the Twitter space and promote your exhibits: "I'll be touring the venue at this time! If you'd like to watch with us, we'd love to have you!"
NeosVR venue for a richer experience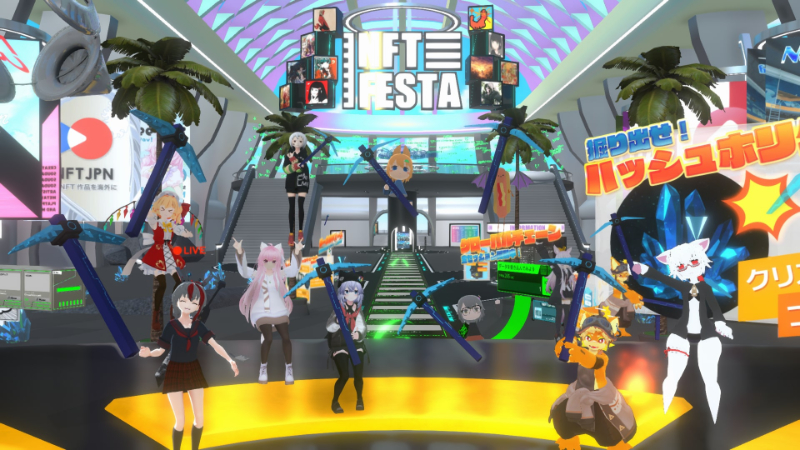 The NFT FESTA was also held in NeosVR, which is arguably the most advanced metaverse available.
NeosVR requires a high-end, high-spec PC, but it offers a very rich experience.
話題のメタバースNeos VRでブロックチェーンゲームを作りました!😂🎮

GPUなんて必要ない!😫
人力マイニングでコインをゲット!!!💰

NFT FESTAのNeos会場で遊べます!本日開催!🎉https://t.co/uVTcQUiBUc#NeosVR #NFT_FESTA
※Steam版ではプレイできません。公式サイトからインストール! pic.twitter.com/MgHylWXYYG

— オレンジ/メタバース撮影技術者 (@mikan3134) January 28, 2022
In particular, the venue hosted "Dig it! Hash Holder!" mining simulation game.
* There is no monetary reward for this game.
While in a true Mining the computational process is left to the computers, in this game the players will manually  mine and create blocks of the blockchain. It is very environmentally friendly.
"So this is how mining works."
"Theoretically a block without any transaction record can be generated."
"I want to spend my life mining without thinking."
As you can see, this mining game was very well received.
NeosVR allows you to program within the space.
That's why such an interesting game was created, and all the while, some people mined in an unusual way...
ハッシュホリダーはマイニング効率だけなら既に最高効率まで開発され切ってる感じみたいなので、
やはり原点に返って人力掘りのロマンを求めるのが良いんじゃないかという事で、アバター自身に高速回転スキルを与えてみた。

*音はありません。#NeosVR pic.twitter.com/6TpibAWgol

— e1ght3 (@e1ght3) January 29, 2022
ハッシュホリダーのHHCを手で掘るのは疲れますよね。マイニングボットを使えばお手軽に自動マイニングできますよ!
今なら1体たったの200KFCでレンタルできます。あなたも放置プレイでラクラク億万長者になりませんか?
※実はKFC・HHCに金銭的価値はありません#ハッシュホリダー#NFT_FESTA#NeosVR pic.twitter.com/KNwgzqsQdb

— rhenium(れにうむ)/メタバース住民 (@rhenium_nv) January 30, 2022
Will the NeosVR venue be held again next time? If so, I am very much looking forward to seeing what the venue will be like.
Changes in the second round
In this chapter, I would like to introduce what has changed in the 2nd NFT FESTA compared to the previous round.
The number of exhibitors has increased from 300 to 500.
The number of exhibition slots has been expanded to 500 this time, compared to 300 last time.
In fact, the number of applications last time was 150, but the organizers received more applications than expected.Their response was "Let's accept as many as we can!", expanding the number of slots to 300.
For the second round of exhibition, 500 slots were set up at the application stage, more than three times the previous exhibition. However, the number of applications exceeded this time around too. Unfortunately, the organizers were not able to expand the number of slots this time.
We have received comments from overseas NFT creators who wanted to participate and promote in the event. This is evidence that the event is attracting worldwide attention.
Overseas NFT creators participated
While the Japanese NFT creators were the main exhibitors at the last event, this time the event involved NFT creators from all over the world and spread the word.
♾Listen up @tmacjpn @MetaArtClub Fam! @NFT_FESTA virtual #NFT exhibition showcase is happening from April 29-May 5 and #TMAC will have a booth to showcase our artists! Mark your calendars, retweet and follow the Discord: https://t.co/ZPxsk08Ppk 👇 🟣🔵 🌟 https://t.co/kSrwBNSudC

— MetaArtClub ∞ (@MetaArtClub) March 29, 2022
【日本NFT- TOP动向】
宝宝们 这边是现在每一个日本NFT艺术家都想参加的NFT FESTA活动🔥

致力于在元宇宙美术馆展示日本NFT优秀作品🧚‍♀️(删选机制挺严格的)
第二届:4/29-5/5
并且这次不用vr头盔就可以进去看
到时一起去玩!#NFTFESTA #NFTJPN #日本NFT情报 https://t.co/UYCe4PeM77

— 🧊Jill_Ciz🧊metaverse&NFT情报小站 (@yanjie129) March 25, 2022
Some people and communities have already advertised the event in their languages! Thank you! 謝謝!
We are very happy that an event originating in Japan is attracting attention overseas, and even some cooperations.
The duration of the event has expanded.
While the previous event was held for three days, this round will be held for seven days, from April 29 to May 5.
In addition to the longer period of time compared to last time, the event will be held during the "Golden Week" holidays in Japan, making it easier for people to make plans with their friends.
We will update this article as soon as we receive new information from NFT FESTA official Twitter.
【4/14】Additional Information
Additional information about the 2nd NFT FESTA was announced on ONI Con Radio on April 14.
Group solo exhibition "NFT Art Museum ENU" will be held at the same time.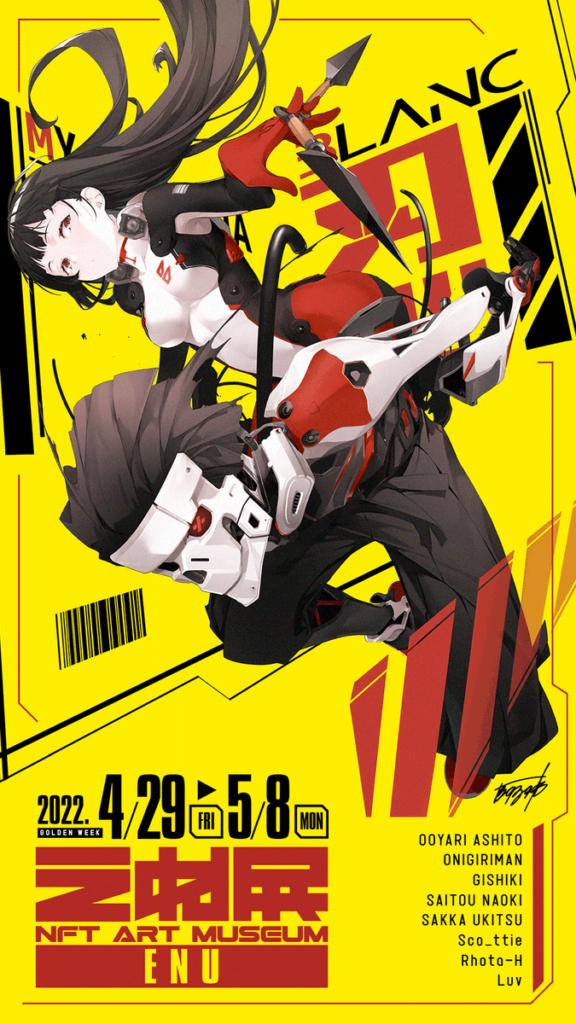 The NFT group solo exhibition "NFT Art Museum ENU" will be held at the same time using the Vket Cloud venue.
~List of Participants~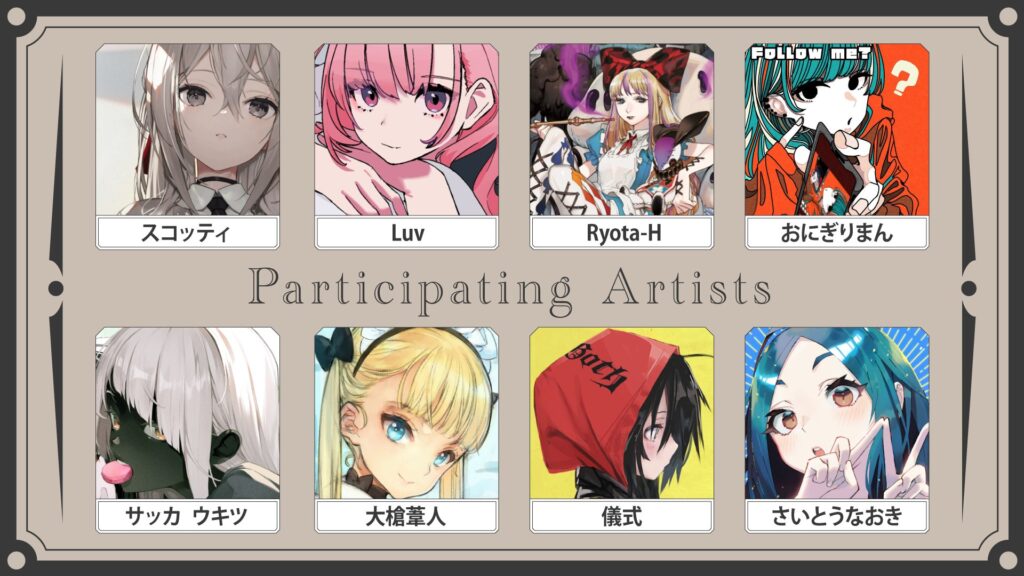 The theme of this group event is "High Quality & Frontline"
Exhibit the best works as creators (high quality) in the cutting-edge area of the Metaverse and NFT (front line).
The exhibition will be held with the strong desire to "create an atmosphere that can hold its own against that of physical group exhibitions."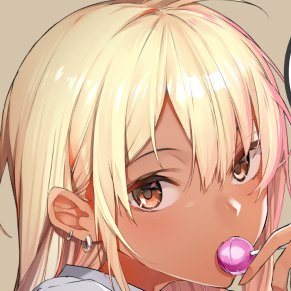 "If there is a second time, I want the venue to have a brand recognition that 'The work displayed here is good.'"
 - Sackaukitsu
In the future, anyone will be able to use the venue used for the NFT Art Museum ENU. It will be possible to customize the venue from the rich interior like this venue.
It is exciting to see that the system will be able to meet the needs of the organizers as much as possible.
You can enter this venue from your smartphone.
Enter NFT Art Museum ENU
【4/20】Catalog is now available.
🌈 #NFT_FESTA ブース配置図が決定!! 🌈

今回は10部屋の展示スペースに分かれています✨
展示参加の方はご自身のブースをご確認くださいね!

そして同時に各展示スペースのBGMも発表です😍
各画像の右下を要チェック!!!

リプ欄へ続きます(1/3) pic.twitter.com/0TcPbnYNnf

— NFT FESTA【公式】 (@NFT_FESTA) April 20, 2022

translator: - nananana